Road
Projects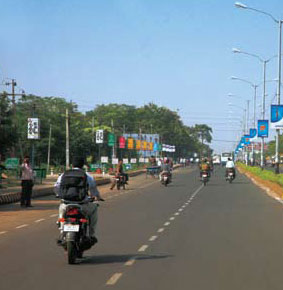 In rural India the roads are not in a good state of condition the degraded road are not conducive for transportation. Although we have developed the managerial expertise for improvement of the condition of the roads we also provide solution to traffic problem for the roads ultimately resulting a change.

In the Eastern region of India widening roads/repair and reconstruction in rural areas is extremely important as it makes possible for new development to occur further out in the region so that we can develop the infrastructure of the region and also we can distances to the places we need to go freely and smoothly. By giving rural people facilities our economy will be developed.

We have focus on solving our traffic in urban roads congestion by repairing and improving problematic areas that already exist instead of pouring money into ineffective road projects. Money should be put toward improving congested roads and interchanges and bridges improving intersections with timed traffic lights and left turn lanes.
Cell:

Although it is difficult for design and acquiring land in some part we do develop and manage it by having a cell which helps us to reduce delays in project

Equipment:

In ARSS we have set up a team for the running maintenance of equipments at various sites, which are situated in remote areas of different states of Orissa and Chattisgharh

Timely Completion:

ARSS has started from the road construction work. It has gained tremendous experience in the road projects but timely completion of the road projects is the only major strength of the ARSS.
Major projects executed
Improvement to Fulnakhara-Niali-Madhab-Gop-Konark-Puri Road from 2/200 Km to 2/300 Km, 19/000 Km to 23/720 Km and 24/000Km in the District of Cuttack under NABARD Assistance Scheme RIDF-X.
Improvement to Pipili-Nimapara-Gop-Konark-Puri Road from 52.00 Km to 80.00 Km under ACA. Reach 2.
Improvement to Berhampur-Chikiti Road Via-Lathi-Jamara from 0/0 to 25/0 Km under NABARD Assistance RIDF-IX.
Improvement to Chordol-Dubani Road from 0/0 to 6/400 Km. under NABARD Assistance RIDF-X.
Improvement to Sukinda-Ashokjhara Road from Km. 9.450 in Jajpur District under RIDF-VII(NABARD Assistance)
Repair such as Construction of Khandagiri Udayagiri Peripherial road from NH-5 to Kolothia Chhak Via craft Village and Sivananda High School (3:100 Km.) and Widening to 4 Laning Under 12th FCA of 2006-07.
Repair such as widening to six lane Bhubaneswar-Nandankanan Road from Damana Square to end municipality area Raghunathpur from 4.15 Km to 8.150 Km for the year 2007-08.
Major Projects under-execution
Widening and Strengthning of Bhawanipatna-Gunupur-Kashipur road (SH-44) from 0/0 to 13/0 and 42/940 to 48/840 km. under SHDP EPC.(Woodhil Infra)
Widening & Strengthening of Jamujhadi-Basudevpur- Dhamara road (SH) to 2- lane without paved shoulder from 18/800Km to 22/750Km & from 27/100Km to 60/470Km.(ARSS)
Widening & strengthening of Parvatipur-Laxmipur Road (SH-51) from 12/600 to 42/830, 44/280 to 53/900, 54/900 to 59/200 and 65/180 to 68/380 KM on EPC mode. (WOODHILL)
Widening and Strengthening of Berhampur-Tamana-Chikiti-Surangi-Mandara Road (SH-22) to two lane without Paved Shoulder from 0/00 km. to 1/00 km. & 2/0 km. to 32/0 km. on EPC Mode (WOODHILL)0
Widening to two lane from Km. 212/700 to 253/700 Km. and Km. 281/700 to 311/700 of NH 326 (erstwhile km from Km. 0/0 to 30/0 Km. and Km. 58/0 to 99/0 of SH-4 under VR Corridor in the state of Odisha under EPC Mode.(ARSS)
Construction of HL bridge over river Brahmani near Jenapur at 15th Km of Kuakhai to NH-200 road via Jenapur in the district of Jajpur under NABARD Assiatance. (ARSS)
Construction of a new 2 lane Highway from km 38.00 to km 71.00(Length-33km) in Mizoram to Support Kaladan multi model transit transport Project in phase "A" of SARDP-NE (package-II) No. AGM-5/CE-HW/2010-11 Dtd. 01.10. 2010 (ATLANTA-ARSS)
Widening existing 2 lane to 2 lane with 1.5m wide paved shoulder from Km 0/0 to 81/0 and Km 93/0 to 119/0 of NH-157 in the state of Odisha on EPC mode. (ARSS)
Widening existing 2 lane to 2 lane with 1.5m wide paved shoulder from km 50/000 - 140/900 of NH 57 in the state of Odisha on EPC mode. (ARSS)