Bridge
Projects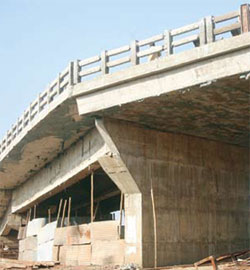 Bridges and Flyovers are an integral part of any Road and Rail Network. But constructions of Major Bridges are occasionally taken up independently.
ARSS has made contribution in execution of Bridges and Flyovers not only in the State of Orissa but in Chhattisgarh, Chennai, Kerela and other States.
The Major Flyover at Poonama Gate in the State Capital of Orissa, Bhubaneswar is completed by us last year.
ARSS has the expertise to execute any type of Bridge viz. concrete deck, PSC Bridges, Steel Girder Bridges and with any type of foundation like open foundation, well foundation, Pile foundation etc.
List of Major Works Executed.
Major Bridges constructed by ARSS
1. Construction of sub-structure consisting of Pile and open foundation, piers, abutments and other ancillary works for 5 major bridges. CA No./IRCON/RVNL.RBRP/Major Bridges between Rajathagarh-Barang.
2. Construction of Road Oover Bridge of Punamagate Railway level crossing including the approaches on Bhubaneswar of R.D.
3. Construction of Steel Girder Bridge (30.5m span)in the work "Railway Siding from Gatora to In plant yard (KM 0.963 to KM 12.880) for NTPC-SIPAT SSTPP PKG-1"
4. Construction four ROB's in the Railway Siding from Gatora to Inplant for NTPC Sipat(total 4 nos. of ROB).
5. Construction of three nos. PSC girder bridges (Major Bridges)of MGR system of NTPC Sipat ex Sipat to Dipka in Package-II and Package-V.
Major projects under execution.
Construction of HL bridge over river Brahmani near Jenapur at 15th Km of Kuakhai to NH-200 road via Jenapur in the district of Jajpur under NABARD Assiatance. (ARSS)