Railway
Projects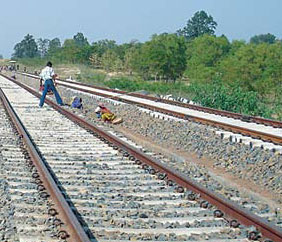 Work taken up includes-:
Survey, fixing of alignment, and designing Road and Railway.
Embankment and cuttings for Road/Rail.
Bridges (Major/Minor including ROB/RUB) for Rail/Road.
Steel girder fabrication and erection.
Laying of ballast and concrete sleepers and rails i.e. track laying (Manually & Mechanically).
Flash butt welding for long rails at site.
Signaling and electrification of Railway Yards.
OHE and General Electrification of Railway works.
Maintenance of railroads and rail infrastructure
Allied services such as service buildings, railway stations and terminals
Urban railways on elevated sections.
Competence
Our company is associated with Indian Railways since last seven years and had the opportunity of executing every type of work mentioned above starting from survey design to final commissioning of rail track even on EPC (Engineering, Procurement, and Construction) basis as well as for allied infrastructure like electrification, signaling, service, buildings, etc. In the process, we have not only acquired all the Plant & Machineries but also the intellectual know-how and trained manpower needed for executing such types of work. Sophisticated and costly design-drawing software, heavy earth moving machines, bridge work equipments like cranes, piling machines, batching plants, transit mixture, concrete pumps, sophisticated girder manufacturing-launching machines and supports, track laying machines, rail flash butt welding machines, etc. for complete railway work requiring huge capital outlay.
Major Projects Executed
Construction of Sub-structure of Major Bridges No. 17(3 nos. 30.5 m), 18(1 no. 30.5m), 19(1 no. 30.5m), 32(2 x 12.2m + 1 x 61.0m) & 34 on Rajatgarh-Barang of East-Coast Railway.
Supply and installation of Track, Signaling and Yard Lighting Works for Construction of Keonjhar-Tomka new BG Railway Line in Orissa, India(110 km.).
Construction of inplant yard, unloading bulb and MGR link line upto Km 50.0 including earthwork in formation of railway, road bridge work and pavement work with supply of materials for NTPFC, SSTPP-Package-II.
Construction of MGR link line from Ch. 35.00 Kms to Ch. 40/955 .30Kms. And loading bulb and yard, including earth work information of Railway, Road, Bridge work and Pavement work with supply of materials for NTPC, Sipat STPP-Package-V.
Construction of Railway Siding Gatora to Inplant Yard (Km.1 0.963 to 12.880) including earth work in formation of Railway, road, Bridge work and pavement way work with supply of Materials for NTPC, Sipat STPP-Package-I.
New Bg Railway Line between Tomka Keonjhar-Banspani of Khurda Road Division in E.Co.Railway - Construction of approach road to ROB at crossing No 15 of Railway Chainage 67/920 Km at 5th Km of Naranpur - Pandapada Road MDR - 12B.
Design, Engineering, obtaning statutary approvals from Railways and other relevant authorities, necessory site preparation, mobilisation of all labour, construction materials and equipment, transporatation, unloading, civil works, storage, erection/construction, testing and commissioning of Railway Siding and Linking from Ambodala Railway Station to the Alumina Plant including intra-plant network for Alumina Refinery at Lanjigarh, Dist. Kalahandi, Orissa on Turnkey Basis.
Major Projects under execution.
Works in connection with doubling of BOLANGIR (EX)-TITLAGARH (IN) section (63.193 kms) part of SAMBALPUR-TITLAGARH Doubling of East Coast Railway in the state of ODISHA, India. (L & T)
Execution of balance work for construction of Road-bed, Major & Minor bridges, Track Linking (Excluding supply of Rails, ordinary track sleepers & thick web switches, outdoor signaling and electrical (General) works in connection with doubling of Lakhani (EX) -arand (in) section (68.936 kms) part of Raipur-Titilagarh doubling in Sambalpur division of East coast Railway in the state of Odisha & Chhatisgarh, India.
Package 2C: Construction of Roadbed, Station Buildings, Passenger menities, Minor bridges, General Electrical works in connection with New B.G. Railway Line from Nuagaon Km 68.300 TO Paradeep 81.20 on Khurda Road Division of East Coast Railway in the state of Orissa, India.
Construction of private rail-way siding with all Contractor's materials (except Rails for plain track issued free of cost) for coal transportation system for Darlipali STPP of NTPC Limited in Sundergarh Distt in Odisha state–from Ch. 6.000 to Ch. 12.460 – Pkg. 1 in Darlipali- Dulanga MGR section. (ARSS)
Earthwork in formation (excluding Blanket), minor bridges between Km 19.000 to Km. 47.000 and 3 no.s of Steelgirder bridges, 8 no.s of Road Over Bridges between Km 19.000 to Km 67.000 in connection with Angul-Sukinda new railway BG line in the state of Odisha, India. (WOODHILL HILWAYS JV)