Chairman
Speaks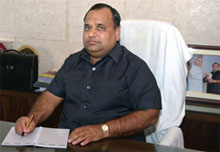 Dear Shareholders,
The past few years were challenging not only for infrastructure industry but also the entire economy as well. Our company was no exception to it owing to severe economic slowdown and persistent recession. However, our company have faced the challenges audaciously and improved the bottom line and came back to profitability. You will be happy to note that our sustained endeavor inspite of continuous adversity we have not only thwarted the economic slowdown but also came out successful for a brighter future ahead. This year operating result will show you the fruits of our continuous labor. I hope and expect your sustained cooperation in our fight for profitability and growth and to regain the status as an infrastructure giant in eastern India.
The Company is now concentrating on consolidation of activities of the company with a focus on major projects and abandoning small projects and non remunerative projects. Conducive political environment and stable government would be helpful for the industry to revive and gain momentum.
The Company has an order book of more than 2000 core in hand. The demand for infrastructure is greater than ever and we are hopeful that the infrastructure industry will bounce back. Notably, your company is one of the major player in infrastructure sector in Eastern India.
Finally I am thankful to all shareholders for reposing faith in us and convey my gratitude to our management team, employees, suppliers, associates and clients for their continued support.
Best regards,
Yours sincerely

(Subash Agarwal)
Chairman.